Calling all creators: Take our survey to help us gather insights on the state of the creator economyShare your creator experiences in our State of the Creator Economy survey
ConvertKit vs. Beehiiv
Looking to build a bigger audience and make a full-time income as a creator? ConvertKit is the go-to marketing platform for you to grow your subscribers, host your newsletter, automate your marketing, and monetize your list.
Why creators choose ConvertKit over Beehiiv
ConvertKit is more than a newsletter growth platform. It's a growth and monetization powerhouse built for creators by creators that helps users grow their audience, connect with fans, automate marketing, and earn an income.
1

ConvertKit has staying power

ConvertKit launched in 2013 with a mission to help creators like you earn a living online. Over 626,237 creators rely on ConvertKit to take their projects from hobby to full-time income. We've grown alongside early adopters of the creator economy, and now innovate for creators, supporting their needs as the market landscape changes.

We're bootstrapped, profitable, and we're not going anywhere.
2

Your emails stay out of the promotions tab

Every month, ConvertKit sends over 1 billion messages with an average delivery rate of 99.8%, consistently one of the highest delivery rates among email service providers. Our users rely on us to deliver their messages to their subscribers' inboxes every time—not the spam folder or promotions tab.
3

Tap into the power of automations and integrations

Our platform offers more than just email marketing. Dive into visual automations that breathe life into your campaigns, customizable forms that blend seamlessly with your brand, and precise subscriber management that ensures every message hits the mark.
4

Monetize any way you like

Sell digital products like downloadables, email courses, coaching, and more with the lowest transaction fees in the market. Drive recurring income with a paid newsletter with premium curated content. Diversify your income with advertising and sponsorships in your emails. Boost your newsletter income by getting paid to promote other newsletters.
I switched from Beehiiv because I wanted to use more advanced automation and sell products directly from my ESP.
Cole Bridge
Writer
Get a personalized walkthrough
Still not sure if ConvertKit is right for you? Have specific questions you want answered? Our team will answer your questions and help you make the most out of ConvertKit.
Schedule a demo
Or jump in and give ConvertKit a try with our 14-day free trial.
No credit card required.
Start your free trial
How ConvertKit is better suited for you
We're a creator marketing platform built by creators for creators. With our particular background and expertise, we've designed ConvertKit to give you everything you need and nothing you don't. From delivering opt-in incentives to advanced automation triggers, you'll be backed by our simple and powerful tool to grow your business.
Custom domains
Newsletter feed page
Automated email series
Recommendation network
Paid recommendations
Ads & Sponsor Network
API Access
Digital products
Paid newsletters
Digital downloads
Coaching
Subscriptions
Event sales
Sponsorships
Paid newsletters
Payment options
Tip Jar
Subscriptions (Weekly, Monthly, Annual)
One-time payment
Pay what you want
Payment plans
Discounts
Subscriptions (Monthly, Annual)
Discounts
Free trial on subscriptions
Integrated payment dashboard
Dedicated deliverability team
Email layout templates
Email rich media
Countdown timer
Social icons
Unsplash & Instagram media library
Bandsintown integration
YouTube, Wisita, Vimeo video embeds
Image gallery
Social icons
Youtube video embeds
TikTok
Unsplash & Giphy media library
Content snippets
Conditional content
Link triggers
Subscriber preferences
Webhooks
Forms
Inline
Modal
Slide-in
Sticky bar
Exit-intent
Inline
Landing page templates
50+
Email templates
40+
Visual automation templates
25+
Visual automation triggers
Signed up
Purchased a product
Tagged
Custom fields
Signed up
Purchased a product
Manual
Integrations
100+
7
24/7 customer support
See why creators make the switch to ConvertKit
ConvertKit's Creator Network is now driving more new subscribers for Daily Stoic than all our other traffic sources combined.
Ryan Holiday
Writer, Daily Stoic
ConvertKit's breadth of tools really expands the possibilities of work that can be done, and being able to monetize it all is so key. Love the ease of the platform for use.
Luvvie Ajayi Jones
NYT bestselling author, speaker & podcaster
I recommend ConvertKit Commerce to any creators looking to build out their creator ecosystem and monetize more efficiently.
Sahil Bloom
sahilbloom.com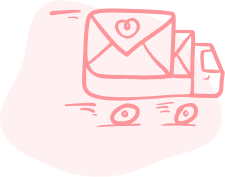 We'll move you to ConvertKit—
for free
Ready to make the switch, but feel stuck? Our migration team can help import your subscribers, rebuild your landing pages, and bring your content over at no charge. Let us get you ready to tap into all the features you need to grow your newsletter.
Request your migration
Get started for free
Give ConvertKit a try with our 14-day free trial.
No credit card required.
Try it for free
Still not sure if this is the right fit for you? Get a personalized walkthrough.
Schedule a demo