2017

State of the Blogging Industry
the conclusion
Blogging is still what powers the growth of small online businesses
Over 850 bloggers spent more than twenty minutes each telling us about the ins and outs of their blogs and businesses in 2017. Without them, this report would not exist. Thanks to them, to you, this report digs into what it really means to be a blogger and how we make a living in this industry today.
Here are our key takeaways from this year's report:
About 15% of people who consider themselves to be bloggers also earn more money than the median United States household income based on 2015 census data; we call these bloggers the pros
About 85% of people who consider themselves to be bloggers are not earning more than the median household income, but they do represent the future of the industry in that they are at various stages of growing their businesses and surely some will enter the "Pro" category in the next year.
If you were to force us to make an avatar of the average blogger based on this survey, she would be 25-45, white, married, college educated, and in the upper middle class.
The avatar of the average blogger is not a truism, but rather an oversimplification of a diverse and growing industry full of many unique individuals who come from a plethora of backgrounds, cultures, experiences, and regions of the world.
We hope the blogging industry will become more diverse with time. In particular, we would love to see more representation on this survey in years to come from people of many different ethnicities and countries of origin. In that diversity, the blogging industry will gain perspective and richness that it would otherwise lack and we will all be better for it.
Bloggers most often get started with a goal of becoming self-employed and having an outlet for creative expression. The tension between these two goals is a beautiful thing and one that makes the pursuit worthy of our time and energy as bloggers.
As bloggers, we feel a sense of happiness and success primarily from creative expression, a feeling of purpose in our lives and work, the relationships we have, money to help us achieve our goals, and our physical health. The balance of purpose and money is one that we can continue to pursue by making our work about more than just monthly income reports, but rather about the impact we make in our customers' lives.
Personal development, entrepreneurship, small business, online business, productivity, marketing, and lifestyle design are the top seven topics bloggers write about, with at least 20% of bloggers covering each of the above.
Most bloggers use WordPress as their platform of choice for their blog and website; they intend to publish weekly blog posts between 500 and 1,000 words, and they often fall short of their publishing intentions.
While we could use many types of media, we typically include photos in our posts and we measure the success of our posts based on total site visitors, new email subscribers and social shares each time we hit publish.
Most bloggers have had between 1,000 and 10,000 visitors on their site in the past year, but pros far exceed this with between 10,000 and 100,000 visitors over the same time period; almost all bloggers use social media and email marketing to grow that audience over time. They typically see email list growth of 66% (median) to 269% (mean) per year, with not-yet-pros growing much faster.
Bloggers typically work on their blogs as a side gig or full-time job, largely depending on how much money they're making; when they work on their blogs, they do so from home, typically working less than 5 hours a week; when they hire help, they typically hire contractors.
Most bloggers have a product or service for sale and when they do, they typically sell either digital products or services; Pros reported average (mean) profits over the past year of $138,046 in profit compared to $9,497 in average profits for not-yet-pros.
We see that real past earnings affect goals for future earnings across the board, with pros setting their sights high, with an average profit goal of $222,000 for the next 12 months compared to an average goal of $35,000 for not-yet pros. The split is even bigger when we compare bloggers who didn't earn money this year vs. those who did; and, unfortunately, there is a 60% profit earnings gap between male and female bloggers that needs to be closed.
Finally, bloggers struggle to find the time to invest in their blogs and businesses, using that time to grow their audience, and then finding ways to turn that audience into a viable, sustainable business by converting email subscribers into customers.
That's the State of the Blogging Industry in 2017. This is the inaugural report that we hope will kick off many years of documenting the state of the industry and the ways in which it is bound to grow and change over time.
We're still in the early innings of what it means to be a blogger and an entrepreneur making a living through small online businesses. Here's to your continued success and our industry continuing to grow into a well-respected, prestigious profession focused on doing good for the people we serve.
Thanks for reading. Now get back to work ;)
–The ConvertKit Team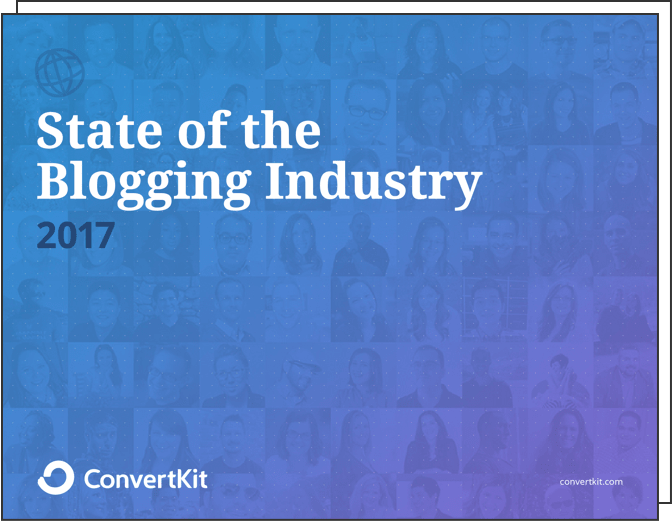 Download the State of the Blogging Industry 2017 report